The ever-popular artists' caddy features plenty of sectioned storage, a sturdy carrying handle and can be locked with a small padlock.
Pick up an artists' caddy at an amazing £7.50 while stocks last!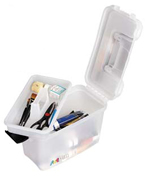 The ArtBin Sidekick™ features generous storage, a lift out tray and additional storage in the lid. It has a secure latch with side opening lid. Dimensions 15 x 10 x 7.75 inches

Only £17.50
The ArtBin Essentials Two Tray Box includes removable dividers, a draw-tight latch and the ArtBin special Tip-Guard™ tray that prevents spills. Dimensions 13.50 x 8.50 x 7.50 inches

Only £14.50
Basic plastic storage, Stackable and without the restriction of sections. A4 size is perfect for flat storage of paper and the smaller sizes are great for embellishments, nibs, pastels etc.
Prices start at 50p